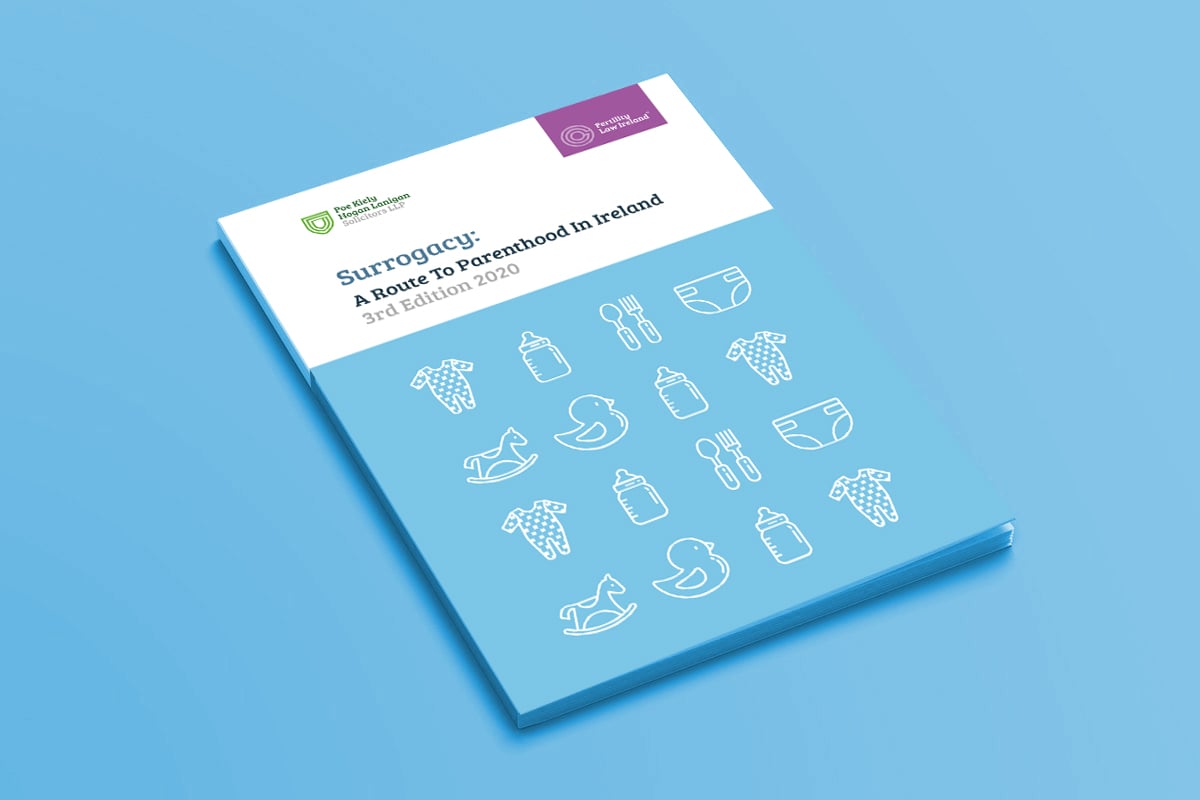 The Surrogacy & Fertility team at Poe Kiely Hogan Lanigan is committed to supporting the development of surrogacy in Ireland and pleased to announce the third edition of our popular surrogacy guide "Surrogacy: A Route To Parenthood in Ireland."
In the last year we have assisted many intending couples and spoken at several events across the Country. We have also engaged with numerous stakeholders, such as the NISIG, LGBT Ireland, and Growing Families to name but a few. These are all great organisations committed to ensuring that those interested can obtain support, guidance and advice on what they need to consider should they decide to embark on Surrogacy as a route to parenthood.
When speaking to intending parents we often note that one of the most common areas of concern is the lack of credible information on the Surrogacy process in Ireland. Questions such as, "Who do I need to notify when I return to Ireland?", "What forms do I need to complete?" and "What status will we have as the parents of the surrogate child when we return to Ireland?", plus many more besides.
For this reason the Surrogacy & Fertility Law team decided to establish a Resource Centre on our website to provide up-to-date information and our Blog also has regular posts on topical issues relevant to Surrogacy in Ireland. One of our most popular initiatives, however, has been the development of our ebook, "Surrogacy: A Route To Parenthood In Ireland" which explores Surrogacy and the various considerations which intending parents may have. We have been very pleased with how this publication has been received with almost daily downloads of it from our website, however, with the ever-changing surrogacy landscape and new areas of proposed legislation, we felt that we should update the eBook with a third edition for 2020.
The Surrogacy & Fertility team is therefore pleased to announce the launch of the 3rd Edition of "Surrogacy: A Route To Parenthood In Ireland". This book will look at several relevant areas of Surrogacy, including:
Traditional and Gestational Surrogacy
Domestic Surrogacy
International Surrogacy
The Irish Court Process
The General Scheme of Assisted Human Reproduction Bill 2017
Frequently Asked Questions
To download the latest edition of our Surrogacy guide, please follow the link to this page, Surrogacy: A Route To Parenthood In Ireland to download your free copy.
We hope that you find this publication useful. Should you ever have a question relating to your own surrogacy experiences, please do not hesitate to get in touch for a free, initial consultation in the strictest of confidence.