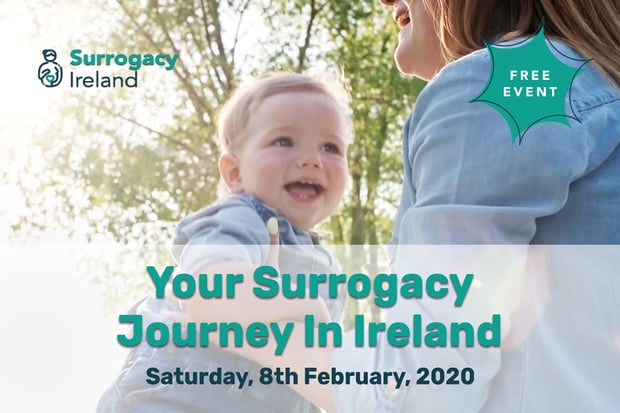 Annette Hickey and the Surrogacy and Fertility Law team at Poe Kiely Hogan Lanigan are delighted to be participating in and speaking at a major Surrogacy event next month in Athlone.
The event, which will take place on Saturday, 8th February in the Hodson Bay Hotel from 2pm to 4pm, has been created as a forum for anyone with an interest in Surrogacy to come along and hear about the speakers own experiences within the field of Surrogacy. It will also be a great place for interested people to meet, share stories and ask any questions which they may have in a safe, private and relaxed environment.
The three keynote speakers are:

Becky Loftus
Becky, herself a recent Surrogate mother, is a strong advocate for Surrogacy in Ireland and is a regular spokesperson on TV, Radio and Print media. Most recently she was a guest on The Late Late Show where she talked about her own Surrogacy journey, the most common questions which people tend to ask and the lack of credible information for both intending couples and women considering becoming surrogate mother.

Annette Hickey,
Head of Surrogacy & Fertility Law,
Poe Kiely Hogan Lanigan
Annette is well known for her work and expertise in the Surrogacy field in Ireland and regularly assists families with the legal aspects of their journey through Surrogacy. She is a regular speaker at Surrogacy events and is widely regarded as one of the foremost legal experts on Surrogacy in Ireland. Annette will talk through the current legal status of domestic and international surrogacy in Ireland and also discuss the treatment of domestic and international surrogacy in the Assisted Human Reproduction Bill.
Following the presentations, Annette and her team will be on hand for a number of private consultations with any attendees who may have particular questions they would like answers to. To book a consultation, please email
ahickey@pkhl.ie
.

Dr John Kennedy,


Medical Director, SIMS Clinic
John has wealth of experience in the area of Fertility and the various investigations and treatments available. He is regularly involved in surrogacy cases and is well known for his compassionate and empathetic approach to all his patients. In addition to John talking about the options available he will discuss how a clear focus on the fine details at the diagnostic stage of infertility investigations is the key to successful treatment in the future.
This event will be a great opportunity for both intended parents and any women considering being a surrogate to hear from other couples and surrogates who have completed their surrogacy journey and to learn from Annette Hickey and Dr. John Kennedy about the legal and medical issues to be considered.
To find out more about the Surrogacy Ireland event, please visit surrogacyeventsireland.com.