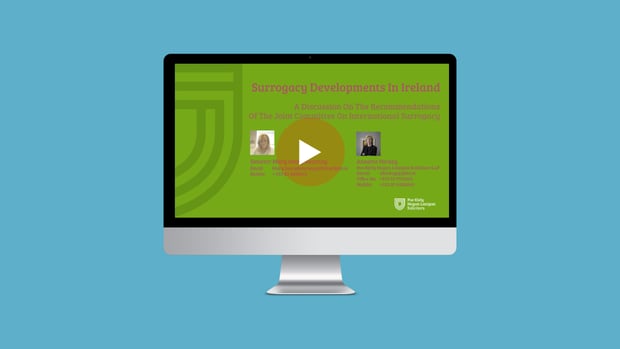 The establishment of a Joint Committee on International Surrogacy to explore the main issues surrounding International Surrogacy in Ireland was a huge step forward in the quest for equal rights for all children and parents in Ireland.
The Committee members worked tirelessly and heard from several key stakeholders including our Head of Surrogacy & Fertility law, Annette Hickey, throughout the course of the year.
We were very pleased to hear that the Committee had concluded its findings and published a number of recommendations for the Minister for Health. It is hoped that these recommendations will be incorporated into the Assisted Human Reproduction Bill before it is enacted into Irish law.
We therefore thought it would be useful for anyone considering Surrogacy in Ireland to listen to our interview with Senator Mary Seery Kearney hear her understanding and explanation of the various recommendations.
Senator Seery Kearny has worked tirelessly to support intending parents and their children across Ireland. We would therefore like to take this opportunity to thank Senator Mary Seery Kearney for her time and consideration and hope that you find this video useful.
This is a ground-breaking time for surrogacy legislation in Ireland and we hope that following the recommendations of the Joint Committee on International Surrogacy that it won't be too much longer before legislation is in place to protect all parties on their pathway towards parenthood.
Contact Details for Senator Mary Seery Kearney
Email: mary.seerykearney@oireachtas.ie
Mobile: +353 83 4050415
If you are interested in finding out more about Surrogacy in Ireland and the various steps you need to be aware of, please contact Annette Hickey, our head of Surrogacy and Fertility law.