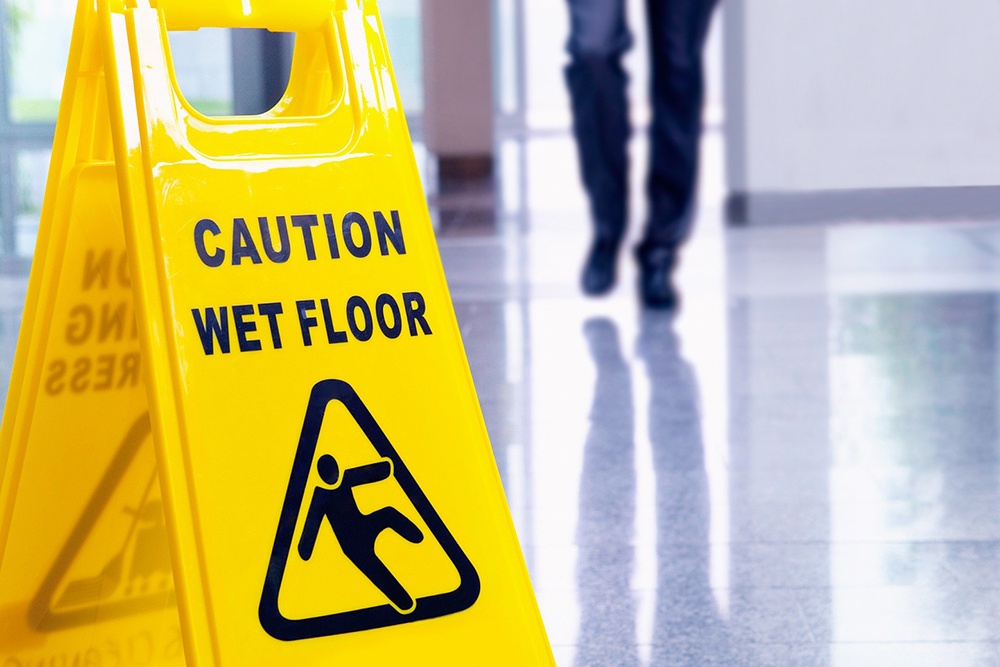 Workplace accidents are more common than you would think in Ireland and whether you run a small office or large factory they can happen at any time of the day without warning and in all sorts of conditions.
If you are concerned about the heath and safety risks in your business, you need to take stock of your policies and procedures and establish clear processes to deal with an accident should one occur. Perhaps there have been a few near misses or an employee has recently injured themselves causing you to re-assess your health and safety protocols?

Safeguarding employees should be a top priority for you, yet many employers admit that health and safety quite often slips down the agenda when the day to day pressures of the business take hold.
In today's environment trying to take short-cuts will rarely be tolerated and if employees do not feel safe at work you have a big problem on your hands. An accident at work that results in injury could also mean you are at risk of a compensation claim plus the inevitable reputational damage.

The good news is there are steps you can take to safeguard both you and your employees when they are at work.
To help you do this we have outlined below six best practices to reduce accidents in your workplace:
Health & Safety Handbook


Ensure a handbook is written and shared with all employees. The handbook should outline the health and safety procedures and the protocols you have put in place, as well as the precautions employees should take to ensure their safety at work. Safety is a shared mission!

Health & Safety Audits


Audits will highlight any health and safety shortcomings which need to be addressed by you, the employer. They should be undertaken by yourself or a designated external company at regular intervals throughout the year to help keep your business on the right path towards health and safety compliance.

Safety Drills


Safety, fire and evacuation drills should be conducted regularly to ensure all employees, emergency response teams and even local authorities or response units are well versed with the procedures in case an incident ever arises.

Safety Training & Equipment


Employees should receive proper training if tasked with operating machinery or undertaking physical activity, such as lifting heavy boxes or climbing ladders. Where necessary, employees should also be provided with Personal Protective Equipment (PPE).

Accident Record Book


It's vitally important you log every single accident no matter how seemingly minor it may be. By writing down the details of an accident, you can look to identify how similar types of accidents can be avoided in the future. The Accident Report Book is also an essential tool to protect you should an employee decide to sue for damages following an accident many months later. If the accident, no matter how innocuous, is not logged you may find it difficult to defend in court and your insurance may be invalidated.

Housekeeping Checklist


It can be all-too-easy for work spaces to become messy and disordered but walkways and worktops should always be kept clear. By having a housekeeping checklist, both you and your employees will be incentivised to keep the workplace tidy and in turn avoid common workplace mishaps and accidents. Once again, keeping clear records and logs will help to protect your business should a claim be made against you.
As an employer you want to be able to demonstrate you have done all you possibly can to ensure the health and safety of the people who work for you. Turning a blind eye to rigorous health and safety procedures will not only be dangerous for your employees but it could also impede your ability to defend a claim properly and ultimately the future success of your business.
By taking the proper precautions, you will significantly reduce the likelihood of accident and injury in the workplace. It's also important to note that implementation of these good practices will make your business easier and cheaper to insure.
Taking proactive preventative measures and regularly reviewing processes and procedures are the key to avoiding the majority of workplace accidents and provide you with a robust defence should a claim arise. Health and safety should not be a one-time consideration but rather something that is embedded into your company and become part of the culture.
To discuss your health and safety concerns and how to reduce your liability should an injury take place, please do not hesitate to get in touch.
Similarly if your business has suffered a workplace injury and you are concerned a claim is coming your way, please get in touch to speak to one of our solicitors.
You may also want to refer to our Health, Safety and Regulatory Law section for further information.